MultiDesk
What's MultiDesk & MultiDeskEnforcer ?
MultiDesk is a tabbed remote desktop client (terminal services client).
MultiDeskEnforcer is a service which ensures connections can only be established with correct shared secret.
With MultiDeskEnforcer, hacker cannot RDP to your server even he got your password.

Learn more about MultiDeskEnforcer
Features
With MultiDeskEnforcer to provide extra protection
Only ONE executable file, small, fast (written in C++), green!
Portable and SSD/flash drive friendly
New style: status bar and fit window with margin
Manage remote desktop connections in groups
Inherit username and password from group properties
Drag and drop support for moving servers and groups
Tabbed connections
Connect to console / admin session
Change connection port
Import cached MSTSC connections
Import servers by scanning given IP range
Redirect specified drives (Need RDP 6)
Quick Connect
Convenient Full Screen resolution switch
Support Remote Desktop Gateway
Support Master Password
Support Start Program on connection (Removed from MSTSC on Windows 10)
Support disable prompts for username and password
Support SOCKS proxy
What's new?
2018-06-29 Released version 7.2
Support SOCKS proxy
Donators Version: 7.2 Download Help
MD5: 0f61d8b761fa1faeb466c03b8175d05a
SHA1: 74c6d7c9175f0fe06906b249699825cfe85d20a2
Enforcer Version: 7.2 Purchase
MD5: f0b367bc9f1cc889bfbac667fa3abc9b
SHA1: ac3d83a9d5b3a5a23d9f7f29c4004f44a8fb89da
MultiDesk needs your help to keep alive. Or if you think MultiDesk is helpful, please make a donation. Thank you!
And sorry, Donation less than $5 will not be handled because PayPal charge most of it and I got nothing.
You will receive an email with username and password to download the *Donators Version*.
You can also donate via Bitcoin: 1NXxHZwHK3Jq8PY3DgpPADTpTMJofFEX3Z
Or Litecoin: LQKNxviVe5VhAjoYg6LtzqbbRUmzo7pZ7Q
N.B. Sometimes gmail will think this email is SPAM. Please check your spam folder if you did not receive it in 2 days.
Latest Free Version: 3.16 Download Help
MD5: a42cf10cc416c703b08501686562d797
SHA1: d92680f3e6ec6048e634439ce441d09fb4d947fe
Any comments?
Blog: http://hoowi.wordpress.com
E-mail: support@syvik.com

Screenshots
SOCKS proxy
Microsoft RDP protocol doesn't have builtin SOCKS proxy support.
MultiDesk implemented an internal tunnel between RDP client and SOCKS server.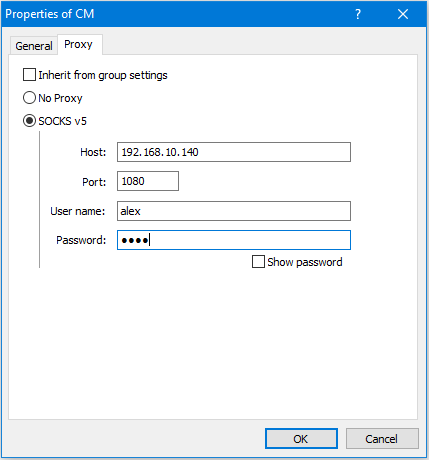 Discover Servers
If you are tired of adding servers one by one, try this function. This function uses multiple threads to scan available servers simultaneously. It can quickly discover all servers in your network.
If your network is slow, try decrease concurrent threads and increase timeout.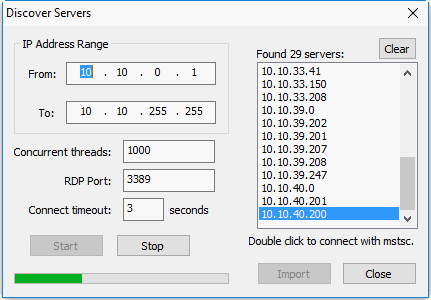 Groups and Servers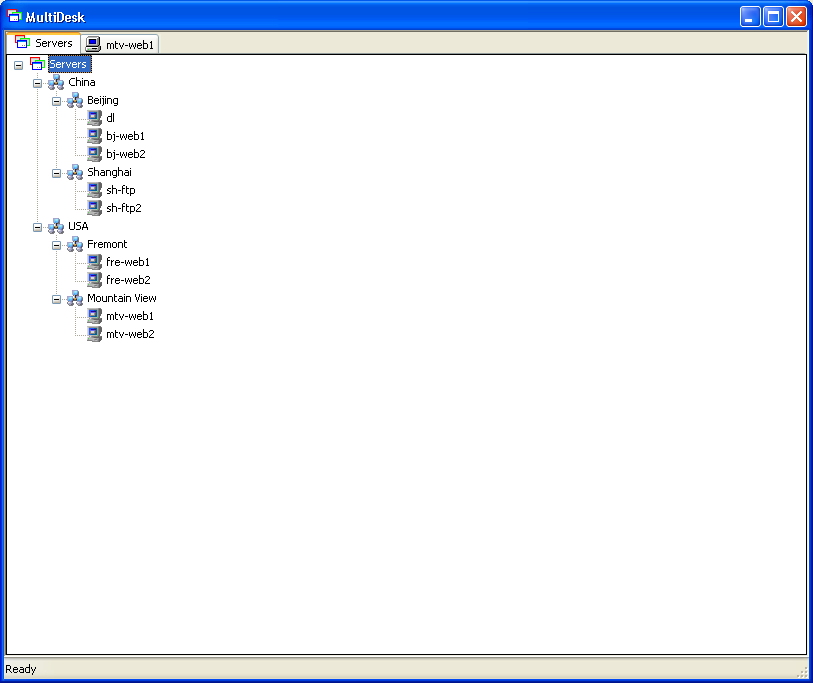 Redirect specified drives
Fit Window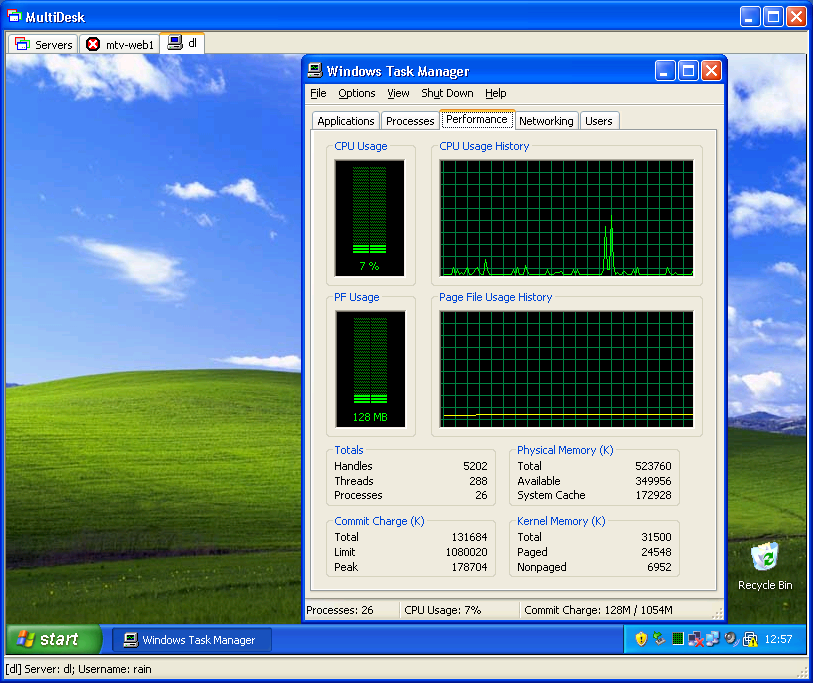 Fit Window with Margin
A status bar and margin will greatly prevent you from being disturbed by local taskbar.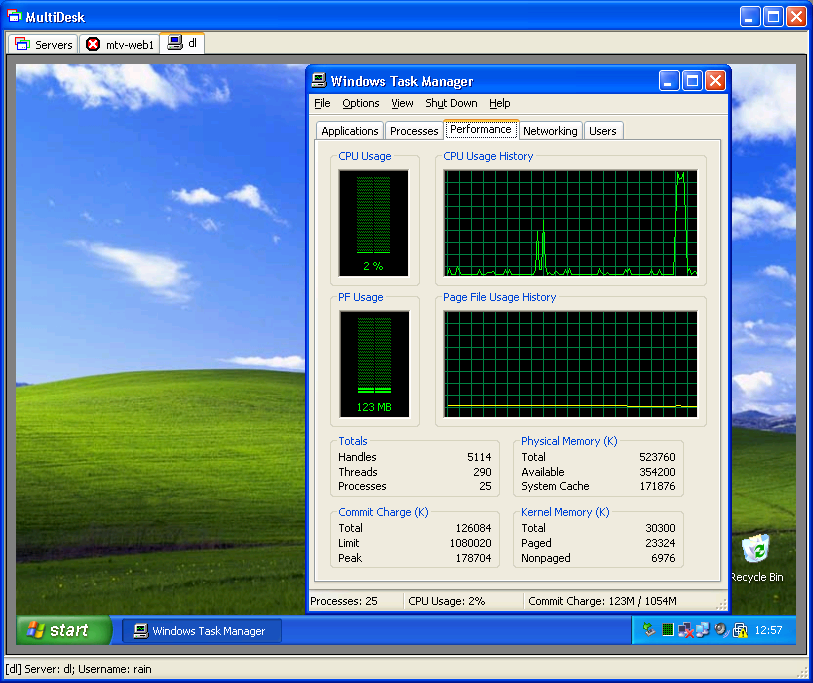 Show/Hide Status Bar
Click system menu and uncheck "Status Bar" to gain bigger workspace.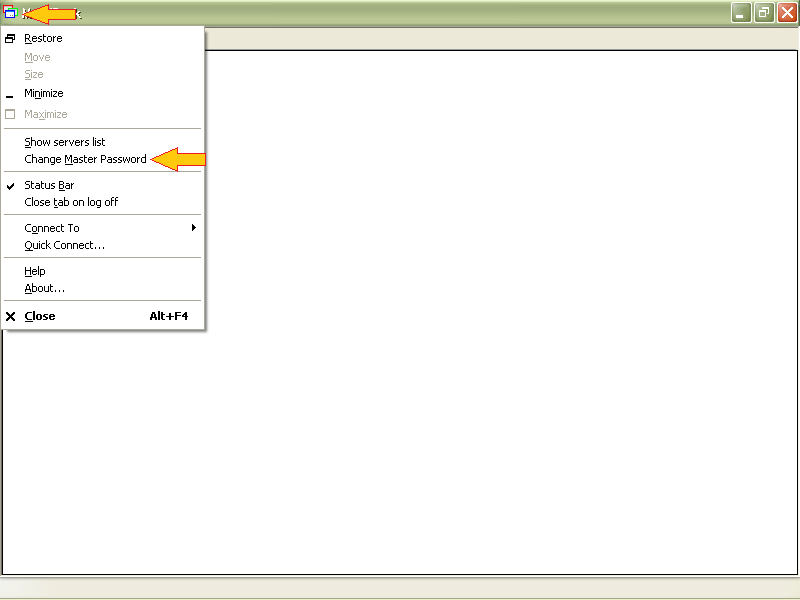 Quick Connect
Right click on window title to choose a server to connect or type the server address.
Requires
Microsoft Remote Desktop Connection (Terminal Services Client) 6.0 or higher (optional)
Windows XP/2003/VISTA/2008/2012/Windows 7/Windows 8/Windows 10
Known Issues
MultiDesk saves configuration in the same directory with itself. For 64-bit Windows, directory "Program Files (x86)" is not writable, so do not put MultiDesk to this directory.

FAQ
How to enable Master Password?
A: Click system memu, click 'Change Master Password'.
To disable Master Password, leave it empty.

What to do if I forgot Master Password?
A: You will be unable to use MultiDesk if you don't enter correct Master Password.
To use MultiDesk, you need to remove Master Password.
All saved passwords will be lost. You have to re-enter them.
Run regedit, delete key HKEY_CURRENT_USER\SOFTWARE\MultiDesk

What is "Reconnect in Full Screen mode"?
A: You can press CTRL+ALT+BREAK to switch to Full Scree mode. But the screen resolution won't change. This is a limit of RDP protocol. Click the menu item "Reconnect in Full Screen mode" will disconnect first, then set resolution to full screen and reconnect. It's temporary and won't change your settings.

What's "Insert a copy"?
A: "Insert a copy" will use current selected server as a template when you want to add another server with the same settings.

Why password doesn't work when use it on another computer?
A: The key is stored separately in registry instead of MultiDesk.xml. So if you use MultiDesk on flash disk, your password won't leak if it was lost or get stolen. To use it on another computer, export key from HKEY_CURRENT_USER\Software\MultiDesk to a registry file and import it on another computer.

How to enable single instance?
A: Use notepad to open the configuration file MultiDesk.xml, then add the red line to "Settings" section. It's case senstive.
<Settings>
<SingleInstance>1</SingleInstance>
</Settings>
Changelog
Version 7.2
2019-06-29
+ Support SOCKS proxy

Version 6.0
2018-06-10
+ Support disable prompts for username and password
+ Support start with specified configuration file, e.g. MultiDesk d:\abc.xml
+ Support search for servers, press CTRL+F, F3 search forward, SHIFT + F3 seach backward
+ Changed default configuration file to MultiDesk.multidesk. Convenient to open .multidesk file with MultiDesk in explorer
+ Thanks to: Marek Jones, Dom Edwards, Peter Schaefer, Tom Aafloen
Version 5.8
2017-08-13
+ Support scan IP range to discover servers and import them to MultiDesk

Version 5.6
2016-10-26
+ Support Start Program on connection (Removed from MSTSC on Windows 10)

Version 5.4
2015-09-19
+ Support Master Password

Version 5.2
2015-08-18
+ Added server authentication
+ Added Remote Desktop Gateway

Version 5.0
2015-07-30
+ MultiDeskEnforcer released
+ Improved password security

Version 4.0
2015-07-09
+ Fixed issue of full screen mode on multiple monitors
+ Minor improvements
+ Available to donators only
+ Thanks to: donators
Version 3.16
2015-03-16
+ Save important changes immediately
+ Fixed configuration file emptied while shutdown system
+ Fixed some bugs
+ Thanks to: many people
Version 3.14
2014-03-14
+ Middle click on title bar to switch to "Servers"
+ Added a description field for server properties
+ Fixed some bugs
+ Thanks to: Keith Fowler, drag0n, Ing. Radek Andrs, sawyer butterfield, 老唯
Version 3.0
2013-05-27
+ Double click server will switch to an existed connection
+ Switch to "Servers" tab from system menu
+ Connect with MSTSC
+ Fixed a crash bug on Windows 8 x64
+ Thanks to: Glen Parker, ttl (小驴)
Version 2.8
2013-04-16
+ Double click tab to connect if disconnected, switch to full screen if connected
+ Fixed a minor bug
+ Upgraded compiler to Visual C++ 2012
+ Thanks to: 老唯, CleverWang, MBV
Version 2.6
2012-05-10
+ Support click middle mouse button to close tab
+ Support redirect drives that I plug in later
+ Add feature "Connect as different username" while SHIFT key pressed
Version 2.4.4.170
2012-02-09
+ Include MultiDesk 64-bit version to support Terminal Services Easy Print
+ Thanks to: Simon Bureau
Version 2.4.4
2012-01-02
+ Fixed a bug of cannot import server with port number
+ Fixed a bug of configuration not saved when reboot or logoff
+ Thanks to: jackbanh, risesunshine
Version 2.4.2
2011-10-14
+ Add feature "Reconnect" (avoid typing password when remote server is locked)
+ Thanks to: Zeroes & Ones
Version 2.4
2011-04-01
+ Support "Network Level Authentication"
+ Support single instance
+ Fixed a bug of "connect group"
+ Some minor changes
+ Thanks to: Fred Huang, Philip Qi, 唯情·酷屋, Robert Myslik
Version 2.2
2011-03-01
+ Add feature "Reconnect in Full Screen mode"
+ Fixed some minor bugs
+ Thanks to: zgan, risesunshine
Version 2.0
2011-01-06
+ Add feature "Close tab on log off"
+ Add feature "Quick Connect"
+ Add support to Terminal Services Client AddIn
+ Add support to "Connect to console" on RDP 6.1
+ Fixed some minor bugs
+ Thanks to: Scott House, 唯情·酷屋, qqHu, jzta, 张敬伟, 李颐(Yi.Li)

Version 1.0.8
2010-12-03
+ Improved compatibility of importing MSTSC connections
+ Fixed restore window position issue when minimized
+ Fixed redirect specified drive issue on RDP 6.1 or above
+ Thanks to: Roger Chen, LiuFeifei

Version 1.0.7
2010-11-12
+ Fixed a bug when importing MSTSC connections
+ Fixed some minor bugs
+ Thanks to: ZhouXH, Fris

Version 1.0.6
2010-11-09
+ Add feature "Insert a copy"
+ User can choose to hide or show status bar
+ Group and server tree collapse state will be saved
+ Thanks to: John James, SONG XUE QIANG

Version 1.0.5
+ Fixed Right Win + L key misbehavior issue
+ Add "connect to non-console" to context menu

Version 1.0.4
+ Add support to import cached MSTSC connections
+ Add "connect to console" to context menu
+ Fixed RDP5 support issue
+ Thanks to: cangelzz, dennes.wang, fr3dy
© 2019 - syvik